OVERVIEW
I want to thank you for all your support during my mother's final months. The service you provided was especially important to us as it allowed my mother to stay home in the midst of her family and the comfort of her own bed.

Mary Eward, 2011

I must say that Lifeline Home Care is sensitive to all the needs and concerns of their clients.

J.F. Wallo, Fairfax, VA. 2010

We were both delighted with the level of healthcare which you provided to us, and with the level of your own personal involvement.

George Hetland, Jr. 2009

You have my heartfelt gratitude for all that you did, and my best wishes for your success in the years to come.I know that you and the healthcare professionals at Lifeline will be as committed to other families as you were to ours.

Mrs. Albert G. Wing Jr, 2007

Since I began with you in January, after my wife passed, you have given me excellent service…

Alex Barone, 2013

We just wanted to thank you so much for the wonderful caregivers you have sent for our daughter, Mary Catherine…

Terri Hammersmith Glotfelty, 2013

Leticia Osei-Poku provided care to my Aunt Ruby for just over 2 years. During this time period I can say that Leticia has done an exceptional job…

Charles Dixon, 2010
CAREGIVER SELECTION
The selection process we have designed makes it simple and easy for you. We understand how stressful it can be selecting that special person to care for those you deeply love and care about. We can't replace the family members but we can do the work to reduce the stress of the process for you so you are able to enjoy and improve the quality of time you are able to spend during your visits.
We also offer home-style Assisted Living Facilities designed to allow our clients enjoy full time CNA and nursing assistance, while living a in a small group of home setting.
These are some of the lengthy and stringent steps we take to provide a skilled, safe, healthy and happy environment.
Screen and test for the highest quality skills
Reference checks for confirmation of skills, respect, compassion and reliability
Communication skills both verbal and written
Extensive Criminal Background Checks
License confirmation with Virginia Board of Nursing
Only when each candidate has met our highest standards do we place them on assignment.
How We Select a Caregiver Just For You
We will provide you with a free consultation in your home or location of choice to gain information so we are able to select that special caregiver that will best match your unique requirements.
These are some of the topics we discuss with you about your loved one regarding the services you desire to enhance their quality of life.
Nursing care requirements:
Daily Routine
Transportation
Types of homemaker assistance
Personality types that best work with your family
Dietary preference
Once we have gathered this information we then research our staff members to determine which candidates are best qualified to match your family with that specific quality of care. If time permits, we will set up a free interview for you to meet the caregiver prior to the beginning of the assignment. This process is not overwhelming and can be established rapidly if an emergency placement is required.
MAKING A DIFFERENCE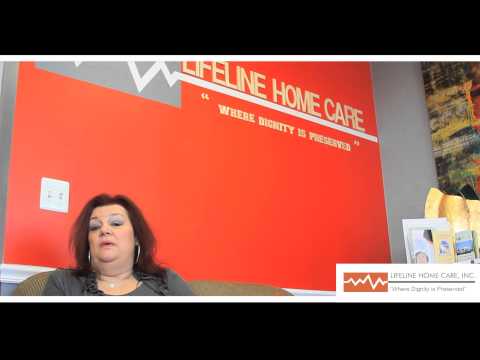 Our Guarantee to You:
Service Inquiry
Lifeline Home Care, Inc. does not discriminate against clients or employees.
All persons are considered without regard to race, sex, creed, national origin, age, or disability in rendering of services and employment.