OVERVIEW
I want to thank you for all your support during my mother's final months. The service you provided was especially important to us as it allowed my mother to stay home in the midst of her family and the comfort of her own bed.

Mary Eward, 2011

I must say that Lifeline Home Care is sensitive to all the needs and concerns of their clients.

J.F. Wallo, Fairfax, VA. 2010

We were both delighted with the level of healthcare which you provided to us, and with the level of your own personal involvement.

George Hetland, Jr. 2009

You have my heartfelt gratitude for all that you did, and my best wishes for your success in the years to come.I know that you and the healthcare professionals at Lifeline will be as committed to other families as you were to ours.

Mrs. Albert G. Wing Jr, 2007

Since I began with you in January, after my wife passed, you have given me excellent service…

Alex Barone, 2013

We just wanted to thank you so much for the wonderful caregivers you have sent for our daughter, Mary Catherine…

Terri Hammersmith Glotfelty, 2013

Leticia Osei-Poku provided care to my Aunt Ruby for just over 2 years. During this time period I can say that Leticia has done an exceptional job…

Charles Dixon, 2010
FREQUENTLY ASKED QUESTIONS
Q. What is home health care?
A. Home health care is the safe delivery of the highest quality medical services, in a cost effective manner, to patients in the comfort of their home. Patient care encompasses the physiological as well as the psychological and self-esteem needs of the patient. This care is provided through a teamwork approach involving the patient, physician, family and loved ones, the home health caregiver and the home health support staff.

Q. Why home health care?
A. Returning to the comfort and security of one's home and family for health care can promote quicker recovery and improve the quality of life for both the client and family caregiver. Home health care is a desirable option for receiving home health care services under the supervision of the patient's physician.

Q. Who pays for home health care?
A. Medicare, Medicaid as well as most health insurance companies, HMO's, PPO's and workers compensation cover home health care. Lifeline Home Care insurance billing. The paperwork is one less thing the patient has to worry about.

Q. What types of health care services can be provided in the home?
A. Many medical conditions can now be treated safely and effectively in the home. Please refer to the Medicare/Medicaid Covered Services provisions for more information.

Q. How do I get home health care?
A. To receive home health skilled services, a physician must prescribe and supervise the care for the patient. For more information in determining qualification for home health services, contact our offices or your physician.

Q. What if I need assistance but do not medically qualify for home health skilled services?
A. Lifeline Home Care offers private pay services for patients who may need assistance with general activities of daily living such as bathing, personal hygiene, medications management, meal preparation, laundry, light housekeeping.

Q. What if I have a problem at night or on the weekend?
A. Lifeline Home Care has a registered nurse on call 24 hours a day, 7 days a week to assist you.

Q. What about my home medical equipment and supplies?
A. Lifeline Home Care can order and arrange delivery for all of your home medical equipment and supply needs including:
Wheelchairs, walkers, hospital beds, bathroom safety equipment and custom equipment.
Oxygen, nebulizers, CPAP and BiPAP
Wound care supplies, IV catheter supplies and foley catheter supplies
Q. Do you check the background of your employees?
A. Yes. All employees undergo a thorough employment background check. All non-medical personnel also submit to a nationwide criminal history screening.


Q. Are your home care employees CPR certified?
A. Yes. All employees involved in patient care are CPR certified when hired and re-certified annually.


Q. Are your home care employees tested for competency?
A. Yes. All Lifeline Home Care employees are tested for competency within their discipline prior to employment. In addition, Lifeline Home Care provides additional in-service and training opportunities throughout the year for all employees. All employees are supervised by a registered nurse.
MAKING A DIFFERENCE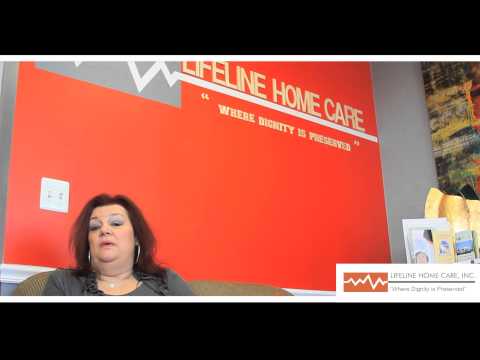 Our Guarantee to You:
Service Inquiry
Lifeline Home Care, Inc. does not discriminate against clients or employees.
All persons are considered without regard to race, sex, creed, national origin, age, or disability in rendering of services and employment.